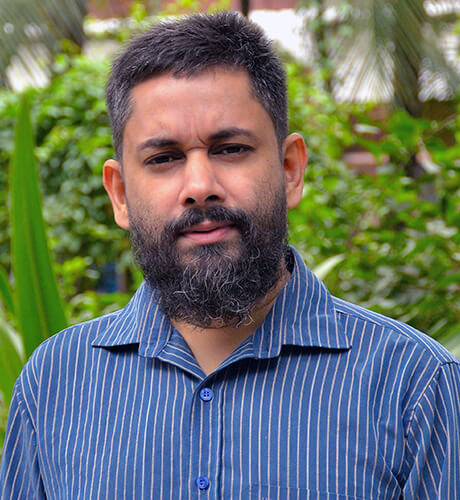 Dr. Md. Abdullah Zubair obtained his PhD in Materials Science (smart sensor) from Materials Science Centre, University of Manchester, UK in 2009. From 2009 to 2011 he worked as a research staff at the same institution, in collaboration with the R&D division of GE Sensing (UK), Crown Industrial Estate on the development of high field surge protection device. He then moved to Japan to join as a JSPS research fellow in the Nano Photonics Laboratory, Tokyo Institute of Technology, Japan (from 2012 to 2015) to work in the field of developing a novel environmentally green lead free positive temperature coefficient of resistivity electroceramic semiconductor for thermal sensing and internal heating application particularly suitable for the hybrid/electric vehicles primarily developed by Nissan. He joined the department as an Assistant Professor in 2015 and promoted to the position Associate Professor & Professor in the year of 2019 and 2023 respectively.
Education:
PhD. (2009) - Materials Science Center, School of Materials, University of Manchester, UK.
MSc. (2004) - Materials Science Center, School of Materials, University of Manchester, UK.
BSc. Engg. (2002) - Dept. of Materials and Metallurgical Engg., BUET, Bangladesh.
Current Research Interests:
Thin film fabrication for second and third generation photo-voltaic application and modeling of electronic structure and optical properties using the density functional theory.
Environmentally green Perovskite based ferroelectric and both spinel and perovskite based composite multiferroics for sensor, actuator, energy storage and memory application.
Fabrication and characterization transparent conducting oxide based thin films doped with transition metal ions.
Synthesis and characterization composite nano particles and thin films as candidate materials for photo catalytic activity.
Courses offered:
GCE 6405:
Ceramic Renewable Energy
GCE 6401:
Dielectric Ceramics
GCE 6403:
Photonic Ceramics
GCE 6101:
Structure and Properties of Glass and Ceramics
MME 323:
Physical Properties of Materials
Publications:
(A) International Journal Publication (Peer reviewed):
(B) Conference & Proceedings Publication (Peer reviewed):
H. Takeda, H. Akutsu, M. A. Zubair, T. Hoshina, T Tsurumi, "Semiconducting behavior of CaO- added BaTiO3-(Bi1/2Na1/2)TiO3 solid solution ceramics", Proceedings of ISAF-ECAPD-PFM 2012, Aveiro, Portugal 2012, pp. 1-2. (Publisher: IEEE); DOI: 10.1109/ISAF.2012.6297799
M. A. Matin, M. N. Hossain, M. H. Rizvi, M. A. Zubair, M. A. Hakim, A. Hussain, M. F. Islam, " Enhancing magnetoelectric and optical properties of co-doped bismuth ferrite multiferroic nanostructures", 2017 IEEE 19th Electronics Packaging Technology Conference (EPTC), Singapore 2017, pp. 1-7. (Publisher: IEEE); DOI: 10.1109/EPTC.2017.8277568
T. Kamal, M. T. Chowdhury, M. A. Zubair and S. M. M. Al Mamun, "Crystal Size and Strain Estimation of 10% Cu doped ZnO Nanoparticles using X-ray Diffraction Data," 2018 4th International Conference on Electrical Engineering and Information & Communication Technology (iCEEiCT), Dhaka, Bangladesh 2018, pp. 536-540. (Publisher: IEEE); DOI: 10.1109/CEEICT.2018.8628097
M. H. Babu, J. Podder, B. C. Dev, M. A. Zubair, "Effect of Fe Doping on the Surface Morphological, Structural, Optical and Electrical Properties of Nano-Crystalline SnO2 Thin Films Deposited by Thermal Spray Pyrolysis", 4th Intl. Conf. on Structure, Processing and Properties of Materials, SPPM,2018; 1 – 3 March 2018, BUET, Dhaka.
M. M. Hoque, M. Z. Baten, M. A. Zubair, R. N. Sajjad, "Optimizing chemical bath deposition of cadmium sulfide for CuInGaSe based semi-transparent photovoltaics", IEEE International Conference on Telecommunications and Photonics (ICTP), Dhaka, Bangladesh 2021, pp. 1-4. (Publisher: IEEE); DOI: 10.1109/ICTP53732.2021.9744213
F. A. Mojahid, M. A. Zubair, "Structural, optical and electrical properties of La - Mg co-substituted Bi0.5Na0.5TiO3 dielectric", 2022 12th International Conference on Electrical and Computer Engineering (ICECE), Dhaka, Bangladesh 2022, pp.360-363. (Publisher: IEEE); DOI: 10.1109/ICECE57408.2022.10088548
M. A. Islam, M. A. Zubair, "Lead-free (Na0.5Bi0.5)0.40Ba0.60TiO3 electroceramic: Preparation and characterization", 2022 12th International Conference on Electrical and Computer Engineering (ICECE), Dhaka, Bangladesh 2022, pp. 240-243. (Publisher: IEEE); DOI: 10.1109/ICECE57408.2022.10089097
M. T. Chowdhury, M. A. Zubair, "The role of crystallographic orientation in thickness assisted modulation of optical properties of ZnSe thin-film", 2022 12th International Conference on Electrical and Computer Engineering (ICECE), Dhaka, Bangladesh 2022, pp. 44-47. (Publisher: IEEE); DOI: 10.1109/ICECE57408.2022.10089060
M. M. Hoque, M. A. Zubair, R. N. Sajjad, "Enhancing average visible transmittance of CdS buffer layer for CuInGaSe based semi-transparent photovoltaics: metal ion substitution approach", 2022 12th International Conference on Electrical and Computer Engineering (ICECE), Dhaka, Bangladesh 2022, pp. 56-59. (Publisher: IEEE); DOI: 10.1109/ICECE57408.2022.10088712
M. A. Islam, M. A. Zubair, "Lead-free (Na0.5Bi0.5)0.45Ba0.40Sr0.15TiO3ceramic: Synthesis, structure and polarization response", 2023 3rd International Conference on Robotics, Electrical and Signal Processing Techniques (ICREST), Dhaka, Bangladesh 2023, pp. 234-237. (Publisher: IEEE); DOI: 10.1109/ICREST57604.2023.10070077