Md. Bashir Ahammad
Head Assistant Cum Computer Operator
Department of Nanomaterials and Ceramic Engineering
Bangladesh University of Engineering and Technology
Dhaka-1000, Bangladesh
E-mail:
bashir.gcebuet@gmail.com
Mobile No:
+88 01611898788
Phone (Off):-
PABX: +880-2-55167100; Ext.: 6892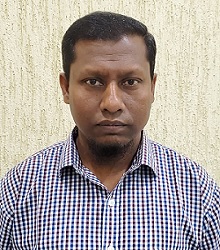 Md. Bashir Ahammad received his Bachelor and Masters Degree from National University, Bangladesh under Titumir Govt. College and Sheikh Burhanuddin Postgraduate College, Dhaka. He began his service in Nanomaterials and Ceramic Engineering Department (NCE), BUET as a Lower Division Assistant (LDA) in January, 2011. He was promoted to Upper Division Assistant (UDA) in 2016 and Head Assistant in 2019.
Education:
Masters of Arts (M.A.) – Department of Islamic History Culture, National University, Bangladesh, 2016
Bachelor of Arts (B.A.) – Government Titumir College, National University, Bangladesh. 2014
Trainings:
• "Office Management & Skill Development" Organized by: Institutional Quality Assurance Cell (IQAC), BUET, November 14-17, 2020
• Microsoft Office Applications (6 months), 2008
• Basic Trade (360 hrs) "General Mechanics" Dhaka Polytechnic Institute, Tejgaon, Dhaka, 2006